WILLIAM,WELCOME TO MY BOOK ADDICTION AND MORE TODAY…..
Bio: William Butler:

William was born in Morehead City, NC. He moved around a lot as a child living in various places such as NY, GA, FL, VA, until his family settled back in NC, where he lives now. He runs the blog Bang Noir and writes
articles for examnier.com. His debut novel, Bang, a noir suspense thriller, was published in December 2010. He is currently working on several new projects.William Butler's inspirations are authors such as Chuck
Palahniuk,Anne Rice, J. T. Leroy, Jacqueline Susann, Anias Nin and Tennesse Williams. He tends to write about characters who are not entirely friendly. It's not all rainbows and butterflies for his novels or
short stories.But Noir is a part of what he writes. It was quoted that "William Butler is an expert in the creation of self-destructive characterswhose actions take them to disastrous ends." -C.C.Cole (Gastar Series,Author)
WELCOME,SUSAN, TO MY BOOK ADDICTION AND MORE….
MBA: Tell our readers a little about yourself,Susan?
I'm so excited to be doing this today. You don't mind if I smoke, do you? I don't really smoke too much. I'm just nervous. Well I guess I should introduce myself. My name is Susan Balestrom. I'm in my mid-thirties (we will just say that. You know us girls don't like to talk about our ages). I was married to Victor Balestrom for  5 years up to his death.
MBA: How hard was it to be in "The House of Balestrom"after the tragic death,with everyone pointing fingers?
That day was very tragic for me. Camille, Victor's sister, has been after me ever since they discovered Victor's body on the mainland. The house now seems so empty without him being around. But I have my sister with me. She's my rock.
MBA: Was the secrets revealed enough to cause someone's death?
Oh, darling. You have no idea the secrets going on around that house. A few deaths do occur because of these secrets. And some decisions were made to keep some of them covered.
MBA: Susan this family seems to ask a high price to be a part of The Balestrom family. Was it worth the price paid?
Good question. I would say overall yes it was worth it.
MBA: If you had of known any of this before,would you still have married Victor Balestrom?
I wouldn't have changed a thing. I would have still married Victor.
MBA: We learn from our past,what did you learn if you can tell our readers?
I learned that I should never… can we move on to the next question please…
MBA:  What's next for you, Susan?
Well next for me is to pick up the pieces. I have a lot of things to think about and change. I do hope I will still be a part of the Balestrom family.
MBA: Mr. Butler can you tell our readers a little tidbits about your next project?
As for your last question. William informed me that he is working on his third novel which is of the noir genre entitled, Time of The Season and then the sequel to BANG. But he wanted me to let you know that he will be returning to The House of Balestrom in at least two or three more stories. I'm so excited to hear about that!
Thank you Susan for visiting with us today…..
Bang by William Butler
Available in digital and paperback on Amazon.com
Visit William Butler's Blog: www.williambutlerblog.blogspot.com
THE HOUSE OF BALESTROM
WILLIAM BUTLER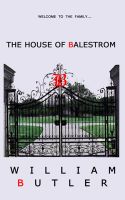 Publisher:CreateSpace (August 31, 2011)
ISBN-10:1456523457
ISBN-13: 978-1456523459
SOURCE: Received for review from the author
Product Description
A tragic death. Two sisters…one who
marries for love…the other marries into THE HOUSE OF BALESTROM. When Susan's
husband, Victor Balestrom, dies in a mysterious and tragic accident, Susan is
suspected of murdering him. With the Balestrom family, manipulated by Camille
Balestrom, pointing fingers. Susan calls on her sister, Sara and her husband
David to come to the private island owned by the Balestrom family to be by her
side during this tragic moment in her life. But Sara and David's visit become
twisted and manipulated by someone in the family, who not only want Susan to pay
for her crimes, but want revenge as well. Will Sara discover who is behind
everything before it is too late? Who is the mysterious man roaming the island
grounds–the man who terrorizes Sara at every turn? Secrets are abound and will
be revealed all the way to its tragic end.
Where to get your copy of "The House of Balestrom":
****GIVEAWAY****
Thanks to William, we are offering 4,…YES.. 4 lucky commenters a print copy of "The House of Balestrom" by William Butler.  This will be 2 signed print copies and 2 e-book copies. Print copies available to U.S. and Canada residents only.No P.O. Boxes,please. To make this interesting, please comment on rather you think you should marry  for "money"  ..OR.. if think you should marry ONLY.. for love…What is the best example of someone from a movie or book who married for money but found love instead…..
This giveaway will run from today September 28 until October 5, 2011.
GOOD LUCK EVERYONE!!
 MY THOUGHTS:
THE HOUSE OF BALESTROM by William Butler  is an exciting supense thriller set on an island.
"The House of Balestrom" is full of secrets,lies and deception with diastrous ends. It has a few murders, a lot
of secrets,manipulations,secrets to be revealed,a bit of adultery,secrets from long ago,and a family of manipulaters. You have two sisters,Susan and Sara. One marries for love,Sara,while the other marries for "money",Susan. One thinks she knows her sister while the other hides secrets from her sister."The House of Balestrom" has many secrets,disatrous things,deaths that is passed from generation to generation and a family of manipulaters. This is a fast paced story that will have you yearning for more. It has twists and turns you NEVER see coming and a susprise ending that will leave you in awe. I hope to learn more of Susan,Sara and of course Alexander Balestrom in the future. A must read for any suspense, and thriller readers. A great read that will have you loving some characters while wanting to poke the eyes out of others. This author is a great storyteller who will have you longing for more,and hoping to never meet the Balestroms. This book was received for review from the author. Details can be found at Createspace and My Book Addiction and More.
RATING: 4.5
REVIEWED BY: April Renn